About Five Star Mortgages
Are you ready to start scouring the market and searching for your dream home? Or, perhaps you are going to have your dream home built so it will have all of the features you have always wanted. Regardless of your situation, finding your dream home is half the battle. After all, once you have found the perfect place to buy, you need to determine how you are going to pay for that beautiful home!
With the help of FiveStarHomeMortgage which is conveniently located in New Jersey, the process of finding the right lender is made much simpler! Our professionals in our new jersey offices specialize in helping people just like you find the right type of mortgage loan to suit their needs. In addition, our goal is always to find the right program and the right lender to help you save money on your home purchase.
Mortgage Guide
With ARM loans, the amount of interest you pay will change according to the prime rate. This means your monthly payment will increase or decrease when the prime rate changes. The fixed interest loans, on the other hand, interest rate on these loans stays the same throughout the lifetime of the loan, which generally lasts anywhere from 15 to 30 years. The interest rate you receive is determined by your credit score as well as other factors taken into consideration at the time of the loan.
Bailout loans help you avoid foreclosure if you haven't been able to pay your mortgage for 120 days, you can talk to your agency more about these type of issues. If you are building your home, on the other hand, a construction mortgage will allow you to access portions of your loan throughout the building process so you can keep your contractors paid. Rehab mortgages, on the other hand, are loans that are used to help purchase a "fixer upper" and also provide money to help with making the necessary repairs.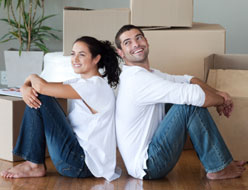 FHA and VA loans help veterans, people with disabilities, and people with low incomes acquire a home with mortgage terms they can afford. You can also save money in the beginning with interest only loans. With these loans, your monthly payment is applied only toward the interest. If you send more money, it is applied toward the principle and helps increase your equity. Rates on these loans are adjustable, which means your monthly payment can increase or decrease throughout the lifetime of the loan. The same is true with low down payment loans. These loans allow you to purchase a home even if you do not have the standard 20% down payment. Lenders will require PMI, which is an additional expense added to your monthly payment, when approving one of these loans.
If you have your own business, you might want a self-employment loan. These loans are used by people that are self-employed and may have difficulty with proving a steady income. No doc loans are also good for business owners as well as others with special circumstances. These loans require little documentation, which means you do not have to prove your income or the amount of debt you are currently carrying. Rates on these loans tend to be higher than standard mortgage loans.
If you are purchasing a home that is quite expensive, you might get a jumbo loan. These loans are given to homebuyers that are purchasing homes that are over $417,000. Similarly, if you need to get your hands on some more money, you might choose to refinance or to get an equity loan. These loans are used to access equity built in the home or to refinance the home in order to take advantage of better terms.
Whether you own a business, have perfect/excellent, good, fair, or poor credit or are looking to fix up a home that is need of repair, FiveStarHomeMortgage can help you find the loan that best suits your needs. Our professionals will work closely with you in order to find the type of loan and the lender that helps you get the loan you need so you can finally purchase the home of your dreams. Contact us today to learn more about how we can help!